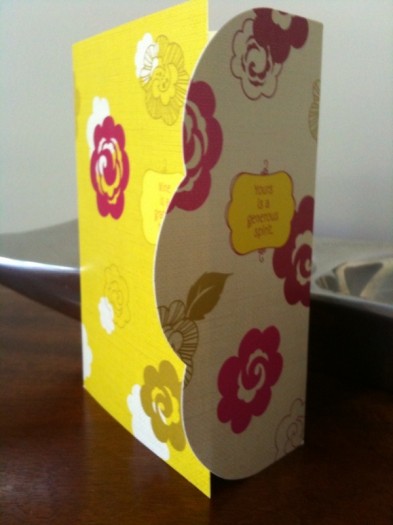 I had been preparing to write a post last night about 'the art of a thank you' but I lost my inspiration as midnight drew near. I promised I would follow up on the thought this morning.
I realize that I shouldn't give with expectations. But I like to be real on this blog.  And honestly, it is genuinely nice to receive an acknowledgement that a gift is appreciated. My mom made me write thank you notes to my relatives even when I didn't want to. I guess it stuck.  As I recall, this is referred to as proper etiquette.
Getting handwritten notes in the mail is rare. But a formal thank you note is a lost and forgotten virtue that few people follow.  It is a travesty.  Because I think at the heart of it, it makes us selfish, and not mindful of the generous acts of others.
Life suprises me sometimes though, and I don't believe in coincidences.
Tucked nicely into my mailbox this afternoon was a beautifull written thank you from my inspiring and eclectic neice. I adore her. And, I adored reading her thank you note that began with "Yours is a generous spirit. Mine is a grateful heart."
Like most thank you notes…it probably took just a few minutes to write, address, and stamp.  But the thought will remain with me for much longer. 
I didn't make a New Year's Resolution this year so here it is…I am going to remember to send thank you notes for even the smallest gestures.