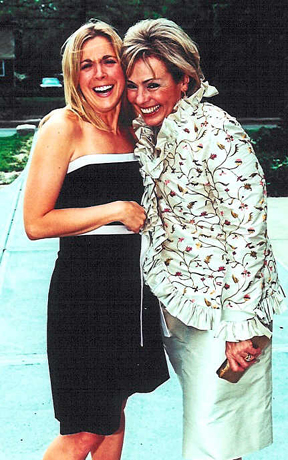 My Aunt Nine died. And if you followed the Letters from Tim blog, you know "Aunt 9".
I, along with my family, am devastated. She was the matriarch of our family…a position she fervently took on once her mother passed in 1991.
Aunt Nine was our first stop on the 'Insane Road Trip.' As we left her home, she insisted I had inadequately packed enough food thus loaded us up. She was just as she has always been…perfect. Two days after we headed further East, she was gone.
Would I have hugged her tighter if I would have known? Without question. More importantly I would have looked deeply into her eyes and said…
"Aunt Nine, You are the matriarch of our family. The rock. The glue. Your home, particularly, your kitchen, is the center of our gravity.
Your role has been greater than that of a beloved aunt. You are one of my dearest friends. You are a compass from which I have been given wise direction, and consistently seek out.
You are irreplaceable.
Some of the first characteristics people recognize you by are your bold voice, flamboyant personality, and broad smile. All of this is wrapped under a cloak of warmth that you immediately feel in your presence.
You are a bold woman with conviction. You are not wishy-washy, you don't hug the fence, and you easily make decisions.
You are strongly opinionated. I certainly did not like all of your opinions growing up but I respect that you have opinions.
You make me laugh. And I don't mean chuckle, I mean belly-laugh.
You are an open communicator. Everyone knows where they stand with you. There isn't a lot of beating around the bush.
You are the kind of mother others should be measured against. Your daughters, Betsy and Suzy, are more like my sisters. I love them.
You are fascinating, with a brilliant mind and thirst for knowledge. Your memory holds the tiniest of details.
You can find something in common with everyone.
You are organizationally challenged yet can pull off a dinner for 25 without any detail overlooked. You are the 'Martha Stewart' I turn to for tips.
You have a distinct walk. It is etched into my memory.
You are beautiful. Despite the extra pounds you consistently complain about, you are stunning.
Your support knows no bounds. I cannot begin to list the things you have done to support me in my lifetime, in addition to, Tim and the children.
I love you. I am blessed to have known you. I will see you again someday."
The last few days have been some of the most emotionally heart wrenching that I can recall. As my uncle said, it is ironic that she died of an enlarged heart because that is exactly what she had…a big heart!