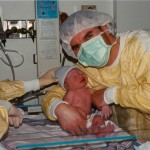 <<<Briggs First Picture<<<
You know how you try to do everything right with the firstborn?  When in reality, that probably screws them up even more.  But anyway…
I picked up every parenting magazine I could when Briggs was born.  I also carried an emergency first aid kit in my enormously packed diaper bag.  With the twins…a cram two pull-ups in my ever-so-fashionable clutch and a few wet wipes in a baggie.  But anyway…
One of the best ideas I ever garned from those parenting magazine was this…write a birthday letter to your child each year, seal it, place it in a special box, and someday give your child all of the sealed birthday letters.  For some reason, I took to this idea. 
While I may not write the letters on their actual brithday, I haven't missed one yet.  Each child has a growing box of sealed letters to be opened perhaps on their graduation, wedding, or other monumental occasion.  So here it is…
Dear Briggs,
Hard to believe my little buddy is going to meet double digits next year!  You have given me great glimmers of hope this year.  I think you are going to turn out okay.  As a parent, we sometimes worry (especially about the first one)!
Here are some changes I have noticed in you over the past year:
1)  You are a voracious reader and a collector of knowledge.  You have focused your interest on these topics in particular:  tigers, sharks, and knights.   You love The Wimpy Kid and Captain Underpants.  And your creative writing is compelling.  You have started keeping several journals and 'about me' type books.
2)  You put yourself to bed.  You do all of the things you are supposed to before bed (with prodding) but you turn out the lights once your sleepy from reading.  And, you are not wetting the bed.  Don't worry about that though…your dad and I wet the bed until we were ten.  So you are ahead of us.
3)  You like money and you want to know how to make it.  You have recently discovered that if you work for something you get compensated for your efforts.  I like that.  You devised an allowance system.  I cannot say your attempts at completing your chores is entirely successful but it is a start. 
4) You say some of the things I say to the children…such as, "Campbell, whining isn't going to get you anything." Or "Gage, If you don't eat you are going to lose privileges." 
5)  Your social network continues to be strong.  You have good friends that mutually respect each other.  You play well together, and even when disagreements arise, you work them out.  More importantly, you and your neighborhood gang have a sweet way of including 'the little ones' or the 'next generation'.   I watched a competitive game of kickball yesterday.  Gage was youngest by four years difference.  As soon as he stepped up to kick, the game transparently altered just for him.  You all were cheering him on, made your throws look dramatically real, and let him run his heart out.  I was proud of each of you for including the little guy who just wants to be big.   And even better, you made him feel cool.
Major Accomplishments:
–  Made a key last play in the Little League Championships to win the game.
– Went to the youth football Superbowl and even played at the Colts Complex.  Awesome experience.
– You made it through your dad's Iraq deployment with me…which at times definitely was challenging.
– For the first year in school, you received letter grades and they made us proud.
Finally…as for being your mom, there is no better role.  You are my buddy.  And, you still get me with those deep brown eyes, thick eyelashes, and dimples.
I love watching you get off the school bus after school and making a mad dash for the house, then hugging me as you walk in the door.  Will you do that in high school? 
Love, Mom